Results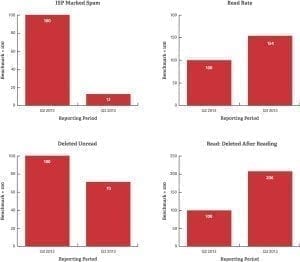 From Return Path's Inbox Monitor email placement reporting solution, it can be seen that in terms of overall Inbox Placement Rate, an additional 1 out of every 6 emails sent is now being delivered to the inbox. In the case of Gmail, there has been a phenomenal almost four-fold improvement in inbox placement.
Using data from Return Path's Inbox Insight competitive intelligence solution, we are able to see significant uplifts across some important subscriber engagement metrics (all graphs are presented as indices with the original performance benchmark = 100):
In summary:
MVC's ISP-marked spam rate has reduced by eight-fold, producing a massive uplift in emails that are being placed in subscribers' inboxes
Average Read Rates have improved by more than 50 percent
Conversely, Deleted Unread Rates have reduced by almost one-third, suggesting MVC's subscribers have become more engaged with their emails since the changes were implemented
This is reinforced by the ratio of Read rates to Deleted After Reading Rates, which has doubled. This implies that MVC subscribers are now seeing greater value in their emails, and are retaining them – with the intention of subsequently actioning one of their offers – more frequently now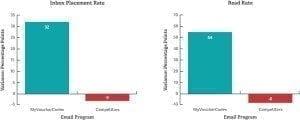 These metrics all play important roles in informing the inbox placement and inbox positioning decisioning of major inbox providers such as Yahoo and Gmail, and were almost certainly instrumental in achieving the major uplift in deliverability performance that has been described above. In addition, since Return Path's Competitive Benchmark Analysis engagement, MVC's own reporting has shown that email click rates (a major measure of subscriber engagement) have increased by 31 percent.
It is also possible to prove that the improvements that MVC introduced had an impact in the broader competitive landscape too:
During the same time period that MVC was benefitting from these performance uplifts, its competitor environment experienced significant reductions in average Inbox Placement and Read Rate metrics. This means that MVC has been successful in winning eye-share/mind-share at the expense of its competitors, particularly from the overlap segment of shared subscribers.