Customer Success
MyVoucherCodes strengthens its email program to drive major uplift in subscriber engagement and deliverability, and 50 percent increase in read rates.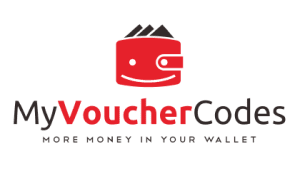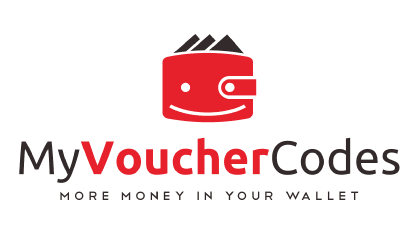 The Global Voucher Group operates MyVoucherCodes (MVC), one of the UK's best known daily deals email programs, with over 6 million members receiving offers from more than 72,000 retailers every day.
Challenge
However, it was felt that program definitely had the potential to perform even better. The Global Voucher Group recognised that it had no real benchmark for how MVC was performing against its major competitors, and that there was a definite possibility that in some cases their performance could be substantially better than its own.
Using our Inbox Insight competitor intelligence solution, MVC's Return Path account manager compared the performance of their email program against a cross-section of primary competitors, and established this was indeed the case. Our monitoring tools demonstrated clear shortfalls against important metrics such as Inbox Placement Rate and Read Rate, and our solution's subscriber overlap capability illustrated a clear disadvantage in responsiveness from subscribers whom MVC shared with competitors.
Presented with this evidence, MVC's program owners asked Return Path to help them identify what their competitors were doing better, and recommend improvements that would increase subscriber engagement and drive up attributable program ROI.
Solution
Return Path's Professional Services consultants used Inbox Insight to carry out a Competitive Benchmark Analysis (CBA) engagement. Three months of proprietary engagement data were used to compare the performance of MVC's email program against that of its main competitors. This detailed audit evaluated subject lines, email creative, sending volumes, email frequency and cadence, as well as targeting and segmentation practices.
Because of particularly severe deliverability problems that MVC was experiencing with its Gmail subscribers, Return Path also deployed its newly-developed inbox optimiser to diagnose the causes and recommend corrective actions. This component of our Inbox Monitor solution identifies and ranks sender compliance problems that trigger increased filtering, analysing more than 20 factors that specifically impact Gmail delivery rates.
The insights from this analysis were presented in the form of a comprehensive set of charts, graphs and examples. A broad set of practical customised recommendations – based on identified areas of vulnerability and/or opportunity – was then put forward as a roadmap to achieve the program improvements that MVC was seeking.
As a result, the following changes were introduced:
Incorporation of Return Path's recommendations into a broader initiative to re-brand the email program
Greater clarity around permissioning practices
Expansion of the welcome email sequence
Enhancement of the subscriber preference centre
Changes to email recency and frequency practices
New email message types to leverage gaps in the competitors' broadcasting schedules
Roll-out of new subject line strategy, following extensive testing
Deployment of descriptive friendly from names for themed emails
Creation of new customised email alerts and digests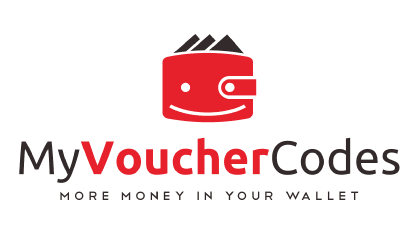 "We knew there were opportunities to strengthen our email program, but we couldn't identify them specifically enough to take action. Return Path showed us precisely where we could achieve better performance and how to do it. Their solutions provided extraordinary insight into our competitive situation and our subscribers' behaviour, and their consultants brought the strategic expertise we needed to develop new approaches."

Amy Macgregor, Head of ECRM
Results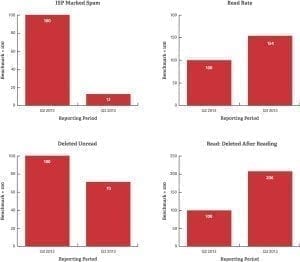 From Return Path's Inbox Monitor email placement reporting solution, it can be seen that in terms of overall Inbox Placement Rate, an additional 1 out of every 6 emails sent is now being delivered to the inbox. In the case of Gmail, there has been a phenomenal almost four-fold improvement in inbox placement.
Using data from Return Path's Inbox Insight competitive intelligence solution, we are able to see significant uplifts across some important subscriber engagement metrics (all graphs are presented as indices with the original performance benchmark = 100):
In summary:
MVC's ISP-marked spam rate has reduced by eight-fold, producing a massive uplift in emails that are being placed in subscribers' inboxes
Average Read Rates have improved by more than 50 percent
Conversely, Deleted Unread Rates have reduced by almost one-third, suggesting MVC's subscribers have become more engaged with their emails since the changes were implemented
This is reinforced by the ratio of Read rates to Deleted After Reading Rates, which has doubled. This implies that MVC subscribers are now seeing greater value in their emails, and are retaining them – with the intention of subsequently actioning one of their offers – more frequently now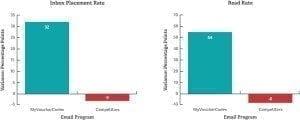 These metrics all play important roles in informing the inbox placement and inbox positioning decisioning of major inbox providers such as Yahoo and Gmail, and were almost certainly instrumental in achieving the major uplift in deliverability performance that has been described above. In addition, since Return Path's Competitive Benchmark Analysis engagement, MVC's own reporting has shown that email click rates (a major measure of subscriber engagement) have increased by 31 percent.
It is also possible to prove that the improvements that MVC introduced had an impact in the broader competitive landscape too:
During the same time period that MVC was benefitting from these performance uplifts, its competitor environment experienced significant reductions in average Inbox Placement and Read Rate metrics. This means that MVC has been successful in winning eye-share/mind-share at the expense of its competitors, particularly from the overlap segment of shared subscribers.
We Know Email
We're experts in deliverability and driving results for your email marketing.